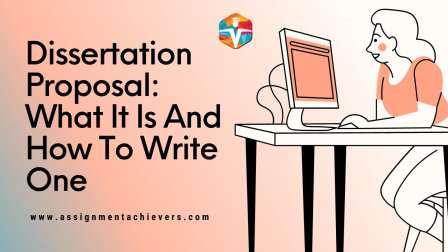 A dissertation proposal writing is the early step of a dissertation prospectus; it's a special kind of writing with its distinct context.
The dissertation proposal is the thing that determines whether a compelling case is worth funding and research or not.
A dissertation proposal defines the research you intend to conduct: what it is about, how it will carry out, and why it is worthwhile. Before you begin your dissertation as an undergraduate or postgraduate student, you will undoubtedly be required to write a proposal. In some cases, for developing a proposal, you might require help from custom dissertation writing services.
A good dissertation proposal will include all of the necessary details and information about the research question, research methodology, and overall scope of the study. A dissertation proposal's primary goal is to persuade evaluators of the researcher's abilities by providing an overview of the intended work plan and its structure.
How to write a dissertation proposal?
The proposal writing follows a specific writing tone and style that is formal, similar to that of the dissertation. The form and content of such proposals may differ depending on the university's guidelines and rulebook, but the general dissertation proposal outline according to best dissertation writing services includes the following sections-
Title

Abstract

Purpose of research

Literature review

Methodology

Result implications

Scheduled plan of work

Bibliography / reference list
The first thing you should do is come up with a title for your proposal. The research question's meaning and the investigation's objective is conveyed in the title.
Make the title catchy while still being in educational instruction; use it to attract your reader's curiosity, but make sure it appropriately conveys what you'll be looking into. There must be a connection between your study's title and its information. A title is generally intended to describe the problem of the study.
This part instructs you to identify the problem that will is addressed further during the study process. All you have to do is start with a paragraph that expresses your dilemma. The first line should be the problem statement, and the other lines should provide the problem's background details. This part of the proposal discusses the research topic, the rationale for your work, the hypotheses you'll try to prove or disprove, the methods you'll use, and the outcomes you're hoping for.
This section describes the context in which your research problem occurs. It will assist your readers in comprehending the topic and will inform them as to why you have decided to investigate this topic. More information regarding your hypotheses is to be added in the introduction. It should also include a brief description of the main topics you'll be looking into.
The purpose of this component of the research proposal is to show that you are presenting original work rather than rehashing existing concepts. It is not uncommon for a student to write a synopsis and begin evaluating the issue without first examining any literature, utterly blind to the fact that the problem has already been well investigated. To demonstrate your understanding of the subject, cite the most influential authors in the field if required and take help from the best dissertation writing services. Make sure you don't forget or neglect any references.
This section explains which methods of research are acceptable for your project. You must describe these research methods in-depth, as well as how they will help you answer your research question.
In the Results section, describe the predicted outcomes of the study. Of all, no one expects you to know the outcomes while you're writing a study proposal. However, it would help if you made educated guesses about what you want to learn, what data you want to collect, and how you want to use the data you acquire.
Study viability is established by scheduling it or giving it a specific deadline. As a result, you'll need to plan your entire workload around the submission deadline. If not sure what the tentative deadline for research is, take custom dissertation writing services to help with the same.
Bibliography / reference list
Your contribution must include a reference list that contributes to the body of your work. This section of your dissertation proposal contains an evaluation that must be meticulously produced, with all sources properly cited. You must follow a specified format and other reference criteria while creating a bibliography.
Conclusion
If you follow these recommendations when writing, no one will be able to stop you from writing a fantastic dissertation proposal for your academics. Put your task in the hands of competent pros who provide high-quality assignments with exceptional precision and authenticity if you still have troubles with your planning and work structure.
About Us
It's natural to feel disappointed when your carefully planned thoughts break apart while working on a dissertation proposal. It will only take a short period to divert your focus. But keep your eyes on the results because you've already put in a lot of effort. Assignment Achievers will assist you if something goes wrong. We are among the best dissertation writing services and the most dependable among custom dissertation writing services. So, why not hire a professional from Assignment Achievers? Our experts from all over the world have helped people from all walks of life produce outstanding dissertation research ideas.