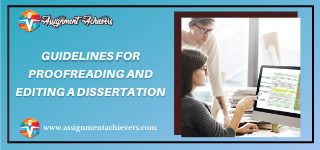 An effective dissertation proofreading and editing is one of the most important aspects of any dissertation. However, it should never be neglected and ignored.
A dissertation editing and proofreading is the last part of any dissertation submission and should be allocated a specific time. Unfortunately, in most cases, when students write a dissertation, they don't even consider taking any help for dissertation proofreading services. This is why after doing a lot of research and hard work, students end up with nominal grades. This mistake can be easily avoided by ensuring the dissertation editing and proofreading by experts.
How effective editing and proofreading can be done to enhance the quality of a dissertation?
Proofreading seems to be a relatively easy task, but most individuals don't understand that dissertation is not an ordinary assignment that would only require a look upon. Instead, a dissertation is a piece of detailed studied work and can only be reviewed by the one that is professional at their concerned job. This is why most individuals opt for a dissertation proofreading service to get expert help in reviving the work done.
Below are some of the essential points that the dissertation proofreading and editing service recommend adopting when evaluating the dissertation.
Get aware of proofreading and editing guidelines

Take a break to get effective at proofreading

Avoid using tools for proofreading

Understand and follow writing style

Move from bottom to up

Divide proofreading into the segment

Maintain a checklist

Don't edit much

Develop critical thinking

Final reading
Get aware of proofreading and editing guidelines.
It's a mandate to be aware of all the guidelines and requirements of the dissertation. Proofreading cannot be done if one is unaware of the prerequisites required for proofreading. This should be done because many minor details regarding the formatting and deliverable are common during dissertation writing. It is almost impossible to effectively proofread a dissertation if one is not aware of the frame of reference to compare.
Take a break to get effective at proofreading
Once the dissertation writing is complete, one should stay away from work, take complete rest, and then start proofreading. This is because if one directly starts to proofread a dissertation after completing it, there are significant changes that you might miss the majority of errors, as your mind is preoccupied with the work that you have performed during dissertation writing. This leads to missing all the skipping of important information and a lot of mistakes; Thus, after the writing work gets completed, one must take complete rest and break so that mind gets relaxed. As a result, you will get time to develop a second opinion about the dissertation in your mind.
Avoid using tools for proofreading
When proofreading and editing a dissertation, try to maintain a distance from proofreading tools. Most of the proofreading tools are not aware of the writing style, and rather than helping with proofreading result in messing up the work. These tools skip over the significant amount of information and result in a poor job as some sentences now don't seem to make the scene as they did before. So it is always preferable to get proofreading done by an expert that is aware of the writing style and has experience in tackling writing problems.
Understand and follow writing style
As writing style depends upon the work performed and can differ from person to person. So dissertation proofreading requires the knowledge of all the basic rules of writing alongside all the grammatical knowledge. The proofreading services for this purpose use experts so that the dissertation is appropriate and flawless.
The most common proofreading and editing techniques that most experts use are proofreading backwards; it means starting the proofreading work from the latest written part to following it to the earliest written one. This helps not get distracted as you can choose a particular part and review it thoroughly and move to the other part. Moreover, this helps in breaking the flow of regularly repeated words in a dissertation. This technique has been proven to be most beneficial by dissertation editing and proofreading service.
Divide proofreading into the segment
Effective proofreading requires an individual to take proper breaks so that it becomes easy to handle different sections of the dissertation. Taking a few paragraphs and headings at a time makes you aware of the various guidelines and formatting. It may sound ridiculous, but one can use a ruler or some other work to hide the other text in the dissertation as it helps increase concentration.
While dissertation proofreading, the expert dissertation editing and proofreading service recommend maintaining a checklist that contains the most common errors that you were able to find out while proofreading the dissertation as it helps avoid common mistakes. This gives an individual a higher chance of getting the existing errors.
It is easy to be carried away while editing and proofreading a dissertation. This should be avoided because your focus mainly remains on making changes; thus, you end up making a lot more changes than required. In this case, an individual can highlight the area where he/she feels a difference can be made.
Develop critical thinking
While dissertation writing, the mediocrity of the work presented is the leading cause of low grades. So, an individual needs to develop critical thinking keeping in mind the flow of thoughts. The best dissertation editing and proofreading service do the same by assigning the proofreading work to experts with deep knowledge of the concerned feed and have developed critical thinking over the years by continuous research and work.
When the proofreading is done, and the deliverables are to be made, a final one-time read from start to end without interruption is the best thing to do. An individual can take help from a speech tool to get the work of reading done. This out loud speech results be very beneficial. You can even ask a friend or professor to do so as it provides a new different point of view.

This concludes the point that one must opt for his/her dissertation editing and proofreading. An individual can use these tricks for proofreading, and if they feel frustrated while doing this, they can ask for help from us at Assignment Achievers. We are the most genuine and affordable dissertation proofreading service. We believe that proofreading and editing is the best practice for one that can help an individual in the long run in his/her academic journey.