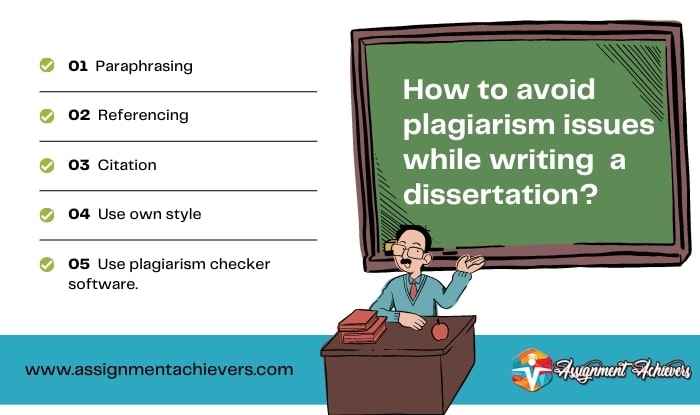 It is not to be denied that dissertation writing is the most difficult task. It becomes a demanding undertaking to do a literature review.
Unfortunately, although these are the factors that contribute to the strength and authenticity of your dissertation and assignment writing, they are also the factors that lead to plagiarism.
Plagiarism is the most common problem that every academic writer encounters when producing a dissertation or writing assignment. Plagiarism is an immoral behaviour in a scholar's academic career, and it is deemed a dissertation writing offence if a sufficient amount is discovered in work given. Plagiarism can jeopardize a person's credibility, reputation, and authenticity. It can also result in a dissertation being rejected in certain situations.
What is Plagiarism?
Plagiarism is the act of posting someone else's content or work as your own, whether intentionally or unintentionally. Work in a dissertation and assignment writing can be considered plagiarism when
The work published carries some content copied from pre-published sources like books, journals or other internet sources.

If the content presented in the dissertation is presented without giving due credits to the original author.

If certain quotes are used without necessary citations.
How to avoid plagiarism while assignment and dissertation writing?
A dissertation or assignment writing should represent an individual's ideas and concepts. However, some conditions may be when your dissertation and assignment might have an essence of prewritten work. Individuals go through many materials when working on a dissertation or an assignment writing. When considering the current circumstances, it becomes necessary to address that the students often look for dissertation writing service online to get 100% originality in their work. Students, in some cases, can rely on this dissertation writing service online as they can be a great source for proofreading a dissertation and assignment writing. So in some cases, it becomes beneficial for students to take references from these services. However, if students are confident enough while working on their assignments and dissertations, they can prevent plagiarism by opting for the following techniques.
It refers to expressing the information in your terms. For example, it is possible that you conducted research on a specific topic and could locate relevant data for your dissertation and assignment writing. To avoid plagiarism, take concepts from work and rewrite them in your own words while maintaining the substance of the composition. Furthermore, one must be careful not to copy two words simultaneously as the software will direct it, resulting in negative marking.
It is the process of properly linking and referencing a piece of content. When information is copied and pasted without paraphrasing, it should be quoted in inverted commas with the author's name prominently cited; this will save you time and headaches with plagiarism. A piece of content will not be considered plagiarized if an author is properly credited for his work.
Citation is no different from referencing. When you come across information related to your topic of interest, you can copy it from books, journals, websites, or anywhere else as long as you correctly cite it with the source's name, title, page number, and even paragraph number.
When you reach the end of your writing, you are on your way to a new career path. Rather than assigning you based on how excellent you are at references, the committee or lecturer wants to see how creative you are. Dissertation and assignment writing assignments are important not only for acquiring a degree but also for self-improvement and learning. You should gather information from various sources and try to write it in your voice. It will not only keep your writing styles consistent, but it will also keep you from being reliant on others or committing plagiarism.
Use plagiarism checker software.
Plagiarism checkers are pieces of software that are used to assess a dissertation's content for plagiarised content. Every school uses it to evaluate student work. Before submitting a dissertation or assignment, a student might have it cross-checked. These programmes can sometimes cost a bit, so it is preferable to get it done by a dissertation writing service online, as they would do it for you at a far lesser cost.
About Us
Want to avoid plagiarism in your dissertation and assignment writing? If yes, then Assignment Achievers are here. Being the home to 2500+ Phd experts, we are the best dissertation writing service online. We can get your dissertation writing work to proofread and edited by our experts at a fair minimum price, assuring you complete originality and 100% genuine work.