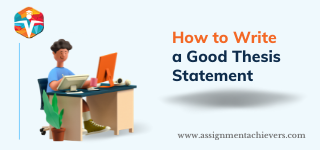 Compelling writing is common in college, and it involves persuading others that you have an interesting, rational point of view on the topic you're learning. Persuasion is a skill that you regularly use in your everyday life.
For example - you convince your parents to let you borrow the car and a neighbour to vote for your preferred candidate or policy. The same is the case with course assignments in college, as they often require you to write a convincing argument. First, you must persuade your reader to agree with your viewpoint. In fiction, this form of persuasion, also known as academic argument, follows a predictable pattern. You state your point of view on the subject clearly and sometimes in one sentence after a brief introduction to the topic. The argument in this sentence is your thesis statement, and it summarises the point you'll make in the rest of your article or written piece of work.
What is the concept of a thesis statement?
Almost all, even though they aren't aware of it, look for a one- or two-sentence summary of the statement or critique that will follow early in an article. A thesis statement is what we call the condensed statement, and a written work holds the most. A thesis writing help in forming a statement of the study and
tells the reader how you'll view the importance of the topic at hand

Is the blueprint; that shows the reader what to expect from the rest of the text.

Is a single sentence that introduces your point to the reader at the beginning of your article. The remainder of the text, or the essay's body, collects and organises facts to inform the reader of your interpretation's reasoning.
Why do you need a thesis statement in your written work?
In general, if you conceive your thesis statement as a response to the issue your paper explores, it would achieve these aims.
to put your thoughts to the test by condensing them into a sentence

to improve the organisation and development of your argument

to give your reader a "road map" to your argument
How to write a thesis statement:
Step One:
Create a question to which your essay will respond.
Read the content carefully, go through your notes, and write down any questions or thoughts that come to mind.
Step Two:
Responses to your question in point form.
Consider and write down some broad points that articulate your thoughts on potential answers to your question. Then, based on your research or knowledge of the subject, choose your best answers.
Step Three:
Combine Steps 1 and 2
to create a sentence that shows the reader what your paper is about by combining the question and your best answer(s).
How do I know if my thesis is strong?
If you have time, run it through your mentor or schedule an appointment with the thesis writing help service. And if you don't have time to get outside help, you should do your thesis writing and review. Then, ask yourself the following questions when you go through your first draft and working thesis:
Do I react to the question?
Re-reading the question prompt after creating a working thesis will give a thesis writing help in correcting a statement that fails to address the question's main point. Try rephrasing the prompt as a challenge if it isn't already. "Discuss the effect of X on Y," for example, maybe rephrased as
"What is the effect of X on Y? "
Have I taken a stand that others might question or oppose? Likely, you're merely presenting a description rather than making a case if your study simply states evidence that no one can or even may argue with.
Is my thesis argument sufficiently specific?
Thesis arguments that are too broad often lack a compelling point. So when you use terms like "good" or "successful" in your study, see if you can be more specific:
Why is something "good"; what makes something "successful"?
Is my thesis up to the "how and why?" challenge? If a reader's first reaction is "how?" or "why?" Your study could be open-ended. But, instead, consider what you might do to give the reader a deeper understanding of your stance right away.
Conclusion
Thesis writing is a daunting task that must be approached with caution and seriousness. This is the most time-consuming procedure, which necessitates a significant amount of time and commitment. Since they are unable to execute it directly, often students seek assistance from professional writing firms. Writing a doctoral dissertation with research material takes at least 2-3 months, although it is not unusual for the study to be postponed for a year. Keep this in mind as you organise your time and effort. Remember that the text of the thesis does not just represent the findings of a graduate student's or doctoral candidate's scientific activity but also adhere to a variety of formal requirements. Remember that the text of the dissertation thesis represents the findings of a graduate student's or doctoral candidate's scientific activity and adhere to a set of structured standards based on a set of unified methodological concepts.
About us
An individual can use these tricks for thesis writing, and if they feel frustrated while doing this, they can ask for help from us at Assignment Achievers. We are the most genuine and affordable thesis writing service. We believe that thesis statement writing editing is the best practice for one that can help an individual in the long run in his/her academic & professional journey.